RBT Wars is the FMRW series produced by SweCats. It's been running seince October 2008.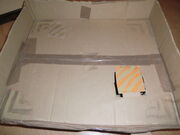 RBT Wars has had 7 wars (8th is currently running) and 2 extreme series (one inofficial, random, with 7 proper episodes, a world championship, and several other episodes, including a swedish sweet melle. The other one was a five episode long chistmas special named Advent Adventures).
The show currently uses the pull-back houserobots as houserobots, all except Mr Psycho and Growler, because SweCats dosn't have those. In the beginning the houserobots were besides Shunt and Dead Metal, R'n'B Flip, The Axecutioner (then named Axe-S) Piece of Wood, and Sumo (Then Piref) as Referee.
Series 1 was more of a test series than anything else. It consisted of only 24 robots in four heats. Wooden Geminis placed 4th, Power Roll took bronze, Wrong became runner-up, and Old Purple won (This is, to this day, the only success Old Purple really ever had, while the others has had decent preformances). It was shot and uploaded during the course of 17 days, and featured the original houserobot lineup.
Series 2 wasn't that much to talk about either. SweCats still worked by holding the camera and acting the robot movements at the same time. It was pretty much the same thing as series one, but with 8 robots per heat instead of 6. On fourth place came Copter. Third was Panic Attack, Razer finished second, and Reedy Flipper won this war.